There is so much to be thankful for, and I for one, am happy to put this into practice once a week.
Thankful nuggets:

*Um, 21 days until my Masters (of Theology) is complete. And yes, I will continue to state this until it's finished. Please also start humming the tune, "Never Ending Story…" right about now.
*Roasted beets with sea salt and olive oil.
*Coconut macaroons – now accepting free deliveries at my doorstep.
*Peppermint tea, especially paired with the above or on a cozy rainy afternoon.
*New, local, text-you-and-make-plans-that-night friends – oh, how I've been yearning for this!
*Finding your very own butcher and supporting the local business and feeling so San Franciscan in the process.
*Doing life regularly with real, witty, hilarious, intelligent fabulous people. (Meet my Downton-loving, amazing cook "but I don't bake!", will bring homemade blood-orange margaritas friend, Kristen).
*A day of cousins, Downton, mimosas, brie cheese and guacamole.
[And yes, Downton Abbey and yummy adult beverages should always be paired together.]
*Doing life with the HBH. Hubba hubba.
*Doing even more life with little Cancan – and feeling so lucky in the process.
*More and more every day re-realizing how I healthy it is to turn off from digital mindlessness (and LOVING Les Mes reading – what a fabulous book!).
How about you? What are you thankful for this minute, this hour, this day and this week?
Link up with Carina and spread the love!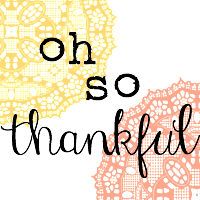 0